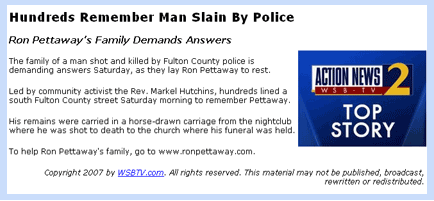 On Saturday morning, hundreds gathered at Atlanta's Frozen Palace Bar, where an unarmed Black man, Ron Pettaway, was shot in the back of the head by police on April 15. His brother Roy was also shot in the back in the same police attack. Ron Pettaway was among a dozed people killed by area police in the last year, including a 92 year-old Black woman shot to death in a botched police raid.
Atlanta Journal Constitution, cited at Pettaway Website
The Rev. Markel Hutchins, who organized the Pettaway March, said,
"The family of Ron Pettaway has made a determination that they are the last family to go through this. We are going to call for a major march in the city of Atlanta. We are going to shut this city down to make them stop killing our young men." AJC at Pettaway Website
Vivian Moore, President of the Dekalb NAACP, organized a witness debriefing session, saying, "We cannot allow our people to be killed without action."
AJC
Ron Pettaway has been executed by police and none of us will let American forget it, particularly since any one of us could be next. The Pettway family has set up a
Ron Pettaway website
to publicize the case and build public pressure for justice, including a compendium of the
media attention
the case has received thus far. And now his friends in Florida and Georgia are speaking out:
In response to the new
Ron Pettaway March and Funeral Blog
that I started to notify Ron's community of the march and funeral arrangements, and to organize Blacks to protest Ron's execution, Tiffanie Sweetman-Delacruz said:
"My name is Tiffanie Sweetman-Delacruz. Ron and Roy are long time friends of mine. Ron was my best friend since childhood. We were inseparable until he moved away to Atlanta. But we never lost touch. He was the most caring, funny, and outrageous person I have ever known. Justice WILL be given to him and his family. We are putting together a vigil in his memory here in Pensacola, FL, the town where he grew up. The date is not exact. But we are hoping for the beginning of May. He will never be forgotten. He will always be loved and missed dearly. God speed. We love you Ron." Ron Pettaway Justice March Blog
Loni at
SoulPhotoNet.com,
a
Black blog
in the area, also vowed that Ron's community would seek justice for Ron's execution by police, saying:
"I don't think the family will let this rest and I plan on being at every rally, march or whatever it takes to ensure that justice is done. The family is being represented by the Cochran Law Firm and a march is being planned. Ron was more than just a friend to me he was like family and he was special and the type of person you would and will never forget. A great person was lost on April 15, 2007." SoulPhotoNet.com